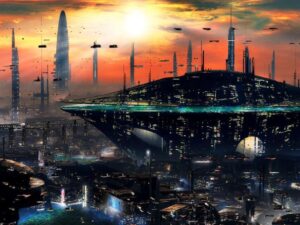 Companies such as Czerka Enterprises, Lerrimore Contracting Company, and Corellian Engineering Corporation – in cooperation with the Bank of Aargau, have granted 50 million credits to the University of Coruscant, Corellia University, and Mrlsst Trade and Science Academy. This unrestricted donation is meant to bolster creativity and ingenuity in the respective school's engineering and science departments.
This contribution has been met with wide acclaim by the public.
One student from the University of Coruscant – Jaq Roznex (20 M), majoring in engineering, is thrilled.
This is insane! My class and I will be able to finish our robotic project without my professor coin pinching. Never thought companies like Czerka or Lerrimore cared like that.
We were able to catch up to Republic Senator Menzyx Kallian, a rising star in the Senate, leader of the Centrist party, and former executive for the Bank of Aargau, on the Senate floor – and he had this to say on the matter:
I am proud of the ceaseless work the Bank of Aargau has done to finance the Republic. And it is my firm belief that we are approaching a precipice. Every day I see more homeless people, more violence, and not on Tatooine where you would expect such a thing, but on planets that were once the models of dignity like Coruscant and even Aargau, my home. Why? The people of this great Republic, of all classes and races, have been crushed by the weight of its… imperialistic overreaching. More conflict in our Outer Rim territories? What a surprise! We must instead focus on investing in the next generation of top minds. Without their innovations, their… forward-thinking, it will be impossible to improve our infrastructure. It is imperative that we raise the quality of life and make smarter use of our resources, or this… fractured Republic will shatter.
Research done by the Associated Presses Voter Study Group shows that Senator Kallian has had a significant uptick in the quarterly Senatorial polls since this interview. Time will tell if this really is just the nudge the Republic needs.
Reporting contributed by the Associated Presses.