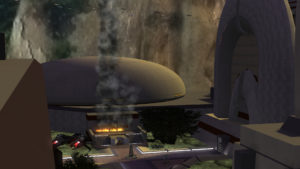 Photograph courtesy of Orleana Gorgin
The CGR is in disarray today as the meeting of the Planetary Council in Immarra was cut short by a devastating attack by groups thought to be connected to the Willowinds, the de facto rulers of Rannon's city Harenae.
Sources say that all of the Planetary Councilors have been accounted for and safe, and they are thought to have been the target of the attack. At least 8 people have been confirmed dead, with the numbers rising as more bodies are recovered from the rubble. Many still are missing, notably Shi islands own Tessa Malum, who had been in talks to establish Shi as a formal region in its own right and have its own elected seat on the Planetary Council.
Immediately after the blast armed men arrived on the scene and began gunning down RSF personnel and civilians alike, fortunately many were able to make it to cover, but the barbaric intent does not change.
There was thankfully a Jedi on site, thus far unidentified, and they were able to secure the councilors and stop one of the battle droids seen patrolling Harenae from brutalizing the lower levels of the city. We reached out to Elis'ta, Immarra's Councilwoman, for a comment, and was directed to the chief of RSF, Briar Kegal. Here's what he had to say –
This attack was a cowardly act by cowardly thugs to intimidate the Council into recognizing the Willowinds as legitimate leadership. Make no mistake. Nobody's fooled. You're the same old gangs you were before this void crisis took over. Your attack failed, and they will continue to fail. You can run on back to your little Hutt overlord and let them know when we set our sights on Harenae, we won't miss.
We'll keep you updated on more details as they come in on this developing story.