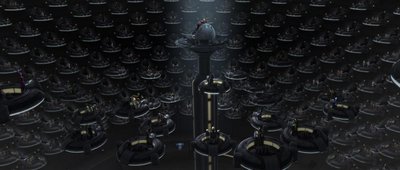 In a joint statement this morning, Republic Ambassador Vosadaii alongside Coruscanti Government Diplomat Miona offered further clarification on the deal struck late last night.
Last night a deal was struck between the Republic and Coruscanti Government to help end the ongoing food shortages on Coruscant.

The additional food will be sourced utilising the wider trade network of the Republic, particularly making use of trade lanes in the Galactic South and Galactic East.

We would like to take this moment to reassure those agri-worlds in the Galactic North that your trade will not be disrupted as a result of this. We will continue to maintain the same level of agri-trade down the northern trade spine. The wider network will only be making up the shortfall in produce rather than replacing it in its entirety.

The additional cost will be absorbed by the Republic, at no extra cost to either the people of Coruscant or the Republic.
Immediately after the statement, Agri-Unionist Undruk who represents the Agri-worlds in the Galactic North made a statement.
Whilst I'm glad that trade down the trade spine won't be disrupted and the livelihoods of millions have been protected, it's important to get on record that if it hadn't been for the threat of a mass strike, the Republic would of almost certainly ceased all agri-trade from the North! This battle is not over, and my colleagues and I will endevaor to ensure the rights of agri-workers in the Galactic North are protected.
One party that has been particularly quiet in all this has been the independent planet of Duneeden. What does this latest development mean for them?
One thing is for certain, if they do not find an ally soon, their independence project will surely fail.