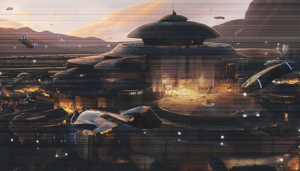 Known for its mass tourism due to in part having one of the largest casinos in the Galaxy, Cantonica's Canto Blight has been the center of attention of a rumor that has caused mass hysteria for the locals, as well as a large number of tourists who planned to visit.
It is not the first time that such a rumor, called Omen by Cantonicans, surfaces. There have been reports over a century for the existence of this event, but the Cantonica Security Force has not deemed it important to investigate. Until now.
What is this 'Omen that could cause such mass hysteria across the entire city? Asking around the locals, rumors circulate that the city has been cursed by consistent disappearances of random people, who visit the city never to return.
It is not an unusual event to have family members and friends not return over the years from Cantonica, often assumed that they gambled their life away or having got rich and disappeared from public life. But over the recent years, the disappearances appear to have grown dramatically, sparking interest and fear over this "Omen".
Unofficial Sources claim that Cantonica authorities have been investigating those disappearances, and initial reports reveal that they take place primarily in the capital of Canto Bight, sparking further rumors of terrible gangs or insidious cults within the capital.
When contacted for an official statement, Canto Bight Chief of Security, Inspector Elias Miller, stated: "We urge people to take these rumors with a grain of salt. Disappearances in popular places are not unheard of over the years, and there appears to be no visible or significant increase lately. Canto Bight's security is of the utmost priority, and the Security Force takes matters seriously. Canto Bight is one of the safest capitals in the Galaxy, and we urge tourists to pay no heed to such unsubstantiated rumors."
Despite the statement, bookings and arrivals of tourists on Canto Bight have seemed to plummet. This sharp decline has caused major concern for Cantonica economists, who believe that if this trend does continue, the economy could take a massive hit.
Is this 'Omen' just a rumor, started just to scare potential visitors, or is there some sinister truth behind it?
Stay tuned for further developments in this story.
Cerisse Lo'nje for National Cantonican News Center.