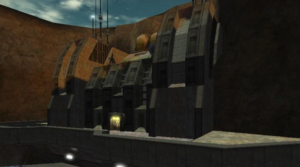 Readers. Listeners. Blind and deaf feelers. Anyone who has a heart (or three) beating in their chest, or used to, thanks for your trust. You know, when I singlehandedly uncovered a spice smuggling ring in the Capitol Hospital on Alzoc III, and survived three assassination attempts to testify under oath before a grand jury, they said I'd peaked.
"There's no way that woman does anything else meaningful with her career," – Jack Ferrestein of SNN said, and many agreed. After all, an attractive, single, driven, twenty-something woman who had looked death in the eyes a quarter of a dozen times over, it's gotta be all downhill from there, right?
And while it's true that I'm no longer twenty-something, I am still single, driven and under more threat than ever before. You see, like a fine wine, I become more attractive with maturity. And Mama's full to bursting with maturity (and conspiracy).
Now, I didn't gather you all here to marvel at how well I have managed to handle my career after all these years, that much is in itself evident. No, no, instead, I wanted to talk about what is next. What have I discovered this time?
As many of you know I left a stable position on Alzoc III to pursue reports of the rebuild on Rannon. And folks, there is major corruption unfolding. This planet is falling apart. What is chilling is the lengths these antagonists will go through in broad daylight to keep the truth quiet. I am of course talking of none other than the masterminds, the Jedi Order.
This branch has skipped across the galaxy for hundreds of years, generating some of the worst examples of Jedi since Doola Infi, and we all remember what she was like.
Now, it is churning out more black sheep faster than they can be shorn. Through an investigation spanning four years I have been tracking the energy infrastructure situation on Kenzie. The Jedi, who allegedly are supplied power from offworld and do not take from the energy grid at all, were suspected to be drawing on the Kenzie grid upon their return after the Void.
When the jig came up, the Order sent their top "Artisans", a pair of kids known as Xintr Wolfe and Aqua Sol (who has known ties to Sibbal the Hutt on Nar Shadaa). They discovered "internal sabotage" which resulted in the promotion of one of the plant workers, and the firing of the esteemed foreman of many years.
But the lives the Jedi have ruined do not end there. No, fast forward a few more years and one will discover a little explosion in Little Creek plant. And guess who was there? That's right. The now Jedi Knight Xintr Wolfe, and our ever precocious Aqua Sol.
With the Willowinds holding Heranae hostage, and the Skavs patrolling in between the territories and beyond, Rannon is growing into a chaotic wasteland, despite the empty promises of rebuilding from the Jedi. I managed to catch Padawan Sol on the streets of Kenzie.
I began to question her about the Jedi's habit of sending children into complex situations. I didn't get far, but here's what she had to say:
"The Government permitted us to act. […] People seem to believe I'm skilled! How fascinating. Unfortunately…"
Incredible. But which government? Unfortunately I didn't get far, as my beloved recording companion G07C-H4, was remotely disabled by an unknown person! Just before falling he was able to broadcast that his systems had been compromised. It was clear, one of the Jedi was protecting their own. Is there no end to the damage this cult is willing to do?
Little did they know, I always have redundancy audio recordings. And one Nicole Inaru, another of the group that conveniently were at the exploding plant, had this to say:
"She can do as she pleases."
What about the pleasure of the people of Rannon? We will find the truth. Were the Jedi involved? Is there a conspiracy within the Rannon government? The infrastructure of Rannon has been immensely crumbling for well over a decade. The time has come to rebuild! Otherwise, it will all begin to fall, one after another, like so many dominos.
Update: As of publishing Nicole Inaru has since been promoted to Jedi Knight.
~Orleana Gorgin, GNN