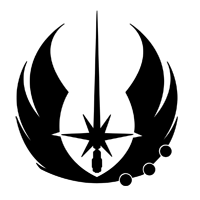 Residents of Alzoc III,
7 years ago, we were forced to flee Rannon as a result of an attack by an entity using what we now know as the spectral force. The praxeum itself was left severely damaged and tainted. Thankfully, the nexus at the heart of Rannon was protected due to the actions of those Jedi that stood to shield it.
On 397.12 the entity responsible for the attack was defeated and as a result the spectral forces grip over Rannon immediately began to fade.
The High Council has been monitoring the praxeum for some time and on 398.12ABY the shield around the nexus naturally faded. Upon further investigation the council are please to announce that Rannon Praxeum is now free of any taint.
Approximately 2 cycles ago work began in earnest to restore Rannon Praxeum. The work has been overseen by High Councilors Iffo Rav'i and Sirius Invictus, with Architect and Jedi Knight Ciupa Lafo of Ilum leading a team of skilled local craftsmen from Kenzie.
We will be leaving Alzoc 3 on 399.12ABY, stopping off at a Orngate Energy Plant ran by the Agricorps on the planet of Siskeen before arriving on Rannon on 399.14ABY.
Please find below an anticipated itinerary for travel
399.12 @ 1500GST – Depart Alzoc 3 aboard the Flotilla.
399.12 @ 1630GST – Arrive at Orngate Energy Plant, Siskeen
---
399.13 – All day spent at Orngate Energy Plant, Siskeen
---
399.14 @ 1500GST – Depart Siskeen aboard the Flotilla.
399.14 @ 1600GST – Arrive at Kenzie Settlement, Rannon
399.14 @ 1620GST – Walk up the mountain as a group to the Praxeum.