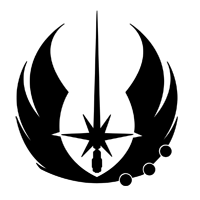 GRANDMASTER OF THE JEDI IN INTENSIVE CARE
Galactic Holonews has just received word from an inside source that Grandmaster of the Jedi Order, Don'roq, has been admitted to intensive care under the Circle of Healers of Ossus. Though we are not in possession of all of the facts as of yet, we can confirm that he has fallen unconscious and is being transported into an intensive care facility within the temple as we speak. The overwhelming speculation is that this condition has followed cycles of failing to heal from wounds he sustained during the strike team operation he led into the heart of the Spectral Force.
The 150-year-old Whiphid has had a long history of serving the galaxy; from his time as a member of the Galactic Alliance's division of Jedi healers during The Attrition Wars, to being elected to the position of Grandmaster of the Jedi Order in 361 ABY. His almost fourty year tenure has overseen the growth of the Jedi Order back into its former glory as the guardians of justice and peace from the disastrous ashes of the Imperium Wars. The Jedi, the Republic and the whole Galaxy has been shaped by his guidance.
All the staff at Holonews will pray for a speedy recovery of the Grandmaster, and we are sure that the entire galaxy is with us in that prayer.