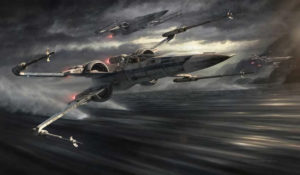 News from the Fresia based Incom Corporation, Executive Nei Ving in an elaborate reveal, unveiled the first major update to the famous X-Wing platform in several decades.
"Today is a special day, we bring a new design to the famous ship that has repeatedly saved the Galaxy numerous times."
The press conference began with a fly over from the new model, the T-90a. The ship, rumored to have been in planning and construction for decades, is expected to be contracted to the Republic, though no formal announcements have been announced by the Republic Navy.
The ship boasts numerous improvements over the latest XJ-series X-Wings, including a sleek new design and profile. Along with the new looks, the ship also includes some of the most advance avionics that Incom has placed into any space craft.
The famous ship racer, Madlyn Varss also revealed that she will be using the T-90 in the upcoming Corellian Prix, where she will be seeking her third victory in a row. A civilian model of the T-90 is expected to be released along side the T-90a.
After the press conference, Incom's stock jumped up a massive 35 points in the stock market.