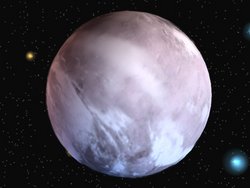 Reports, received from the planet of Berris, state that a child has gone missing. The information gathered by both the local Law Enforcement and the media are rather disturbing.
This time, the abductor posing as a Jedi when refused access to the child by the parents. Broke-in, threatening the parents' lives before forcibly removing the child.
While the local citizens of the small city on the surface of Berris struggle to face reality; the fact remains, young Doroelsa Cobbrec was abducted from her own home, in front of her very own parents. Her mother, Liadean Cobbrec, was shocked and utterly desperate, as evident from her statement to local media:
It is terrible! Our little Elsa was taken away under the threat of rifles. We were terrified for our own lives, as well as hers. I cannot dare to imagine what will happen to my little girl.
In addition, one of the officers stationed in the area and involved in the aftermath is in critical condition. The media was unable get a statement from security forces, but it is believed he got injured in an attempt to stop the abductor. Law enforcement did however make it clear that the officer's life is stable.
However, perhaps more shockingly, unlike in previous instances the Jedi weren't even on the planet, arriving only after young Doroelsa was taken and it was too late for them to assist.