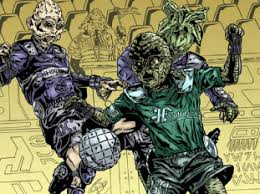 The 382-384 Boloball season is set to hit your holo terminals and datapad screens with preseason starting in early 382 and regular league games starting towards the end of the year.
After a number of notable trades and player signings during the offseason, the upcoming season will be interesting to watch as rising teams like the Naboo Strikers and Shili Shooters aim to dethrone perennial championship favorites the Corsin Warriors.
Two games featuring top-tier teams are slated to kick off the new boloball season in spectacular fashion.
The Naboo Strikers will clash with the Shili Shooters at 2000 GST to start the season. Both teams met in the Republic Finals last season and are expected to be top postseason contenders once again this season. Shortly afterwards the galactic powerhouse that is the Corsin Warriors, led by Gelix Vector will take on the infamous Duro Blues. Which airs at 2130 GST.
So grab your bantha bites and join us here on port-1937 to watch the games live from your terminals and datapad screens!