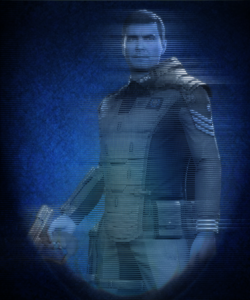 Today we've learnt from a public notice coming directly from local Chief of Rannon Security Forces that officer Frex Tannis has been kidnapped while investigating on outlaws business in the Calidi Badlands.
Frex Tannis is a young officer of the RSF who resides on Kenzie with his wife and his young son. He's been praised for his remarkable career by chief Ok'are in the most recent public notice.
Tannis been interviewed by our network not too long ago, in the occasion of the recent bank robbery in Kenzie, in occasion of which he led the assault against the outlaws who've spread havoc in town. In that occasion he had hard words against the mysterious vigilante referred as "Embers", who has not been sighted since then.
The family pleads for his safe return, but so far there has been no communication nor ransom demands.
Stay tuned for further updates.