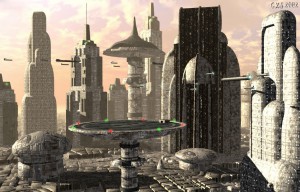 As fear swells within the Republic with the death toll from the aggressive flu strand increases, medical practitioners and physiologists alike have been scrambling for the answer; a cure. Currently, there are many in the core who are isolated from humanitarian and medical support, though this may soon change, specifically for those suffering upon Coruscant.
In a breath-taking show of compassion, the two co-founders of Archlight Enterprise, now known today as AE-Technologies, one of the leading companies and organizations in military innovation, has donated 750 million credits to the cause. The pair went even further by sending a team of professionals on a potentially one way trip into the heart of the quarantine zone, Coruscant, in order to assist with the ongoing flu outbreak, which has now claimed hundreds of thousands of lives across numerous planets.
Doctor Aitress Xirmas and Scientific Engineer, Kalmaris Xirmas founded AE-Technologies back in 318.23 ABY. Married with two children of their own, Kalmaris had this to say for the galaxy…
"Our company has always had its share of ups and downs, as is the way with most things. Here at AE-Technologies, we hold a profound dedication to the continued efforts of the Republic Governance, that has kept us all safe for so long and seen to the success of our business with joint government projects. We now feel it's time for us to give back, as we cannot ignore the demand for medicinal aid any longer. We have not forgotten those in need and hence forth, our single focus is going to be on the restoration and purification of Coruscant.In addition, I would like to condemn those who wish to downplay the significance of this pandemic. This outbreak will only get worse before it gets better, so more action is needed, not less. As parents, we hope our donation helps as many as possible, knowing that if they were our children out there, we would want nothing else but their return to good health so they could live a happy and full life.I call to others for aid. This menace will spread if we do not act now…"
In response, others have stepped forward to produce similar notions of support and tribute to Coruscant and its neighbouring systems. The Galactic Republic's spokesperson for the Senate has yet to comment on AE-Technologies' donation. When approached for an interview, they refused and claimed the situation was under control, yet the controversial move by Arclight Enterprise seems to suggests otherwise.
For more on this story, stay tuned and stay safe.