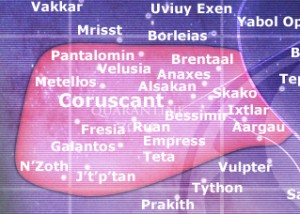 Quarantine zone as of 333.09 ABY.
The quarantine zone in the core systems was increased today as infections reportedly sprouted in nearby systems. The recent infection rates have increased to 1,500 with fifty-nine recorded fatalities. The quarantine zone, which now rivals the size of space of the Mandalorian zone, occupies the following systems:
Aargau
Alsakan
Anaxes
Brentaal
Coruscant
Empress Teta
Fresia
Galantos
Ixtlar
J't'p'tan
Metellos
N'Zoth
Pantalomin
Ruan
Skako
Velusia
There are fears that the containment of this epidemic has failed. The Republic has offered little to answer to the recent increase other than a basic statement from the Minister of Health Yoka Bariin, claiming: "The Republic has taken measures to increase the quarantine soon to prevent further infection. Please do not take this as a representation of the reach of the infection; the zone has increased to compensate for the potential of spreading on trade routes. We do not predict it to spread, and are currently in the process of fighting back against the flu."
In light of the new quarantine extensions, it was reported the Jedi Order had run several aid missions to these newly added systems prior to the ruling. This means that these systems have received helpful medical aid in the form of antibiotics, rations and basic medicines. These supplies are said to last several months. Hopefully these resources gifted by the Jedi Order last long enough for the cure to be completed and deployed.
There are fears that the epidemic has gone too far and is irreversible, but there are significant resources being deployed into medical research and testing into a potential cure. More as it develops.