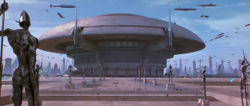 Breaking news, representatives from the leading body of the commonwealth have started arriving on Coruscant, to attend a meeting with Chief Of State Malucia, regarding their possible reintroduction to the Senate and ultimately the Galactic Alliance itself. Most of the questions hinge on what the systems will be guaranteed in terms of power and rights within the Senate, something which has been sending the Senate into a frenzy of debate.
It's believed that they wish to have some involvement with the restructuring of the Senate offices, currently underway, but also a share of the political responsibilities considering the investments and contributions they will be making consistently, to the Alliance, as part of the push for economic growth and  to re-establish a larger military force. Our political experts are claiming that they may be granted a seat on the Advisory Council in as a official 'hand shake' in acceptance of the proposals, but this could see a complete overhaul of the current political set up but prove a real positive for growth in resources.
Should the Chief Of State be successful in her talks with the Commonwealth leaders, a public address is expected for confirmation of these changes.
We will keep you updated with the latest, as yet another historic moment could well be witnessed.