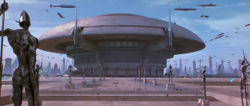 The skies of Coruscant's Senate District are briefly still as all traffic is redirected to make way for a funeral procession. The body of the late Caden Aquitenne, Chief of State of the Galactic Alliance, was carried through these empty skylanes to the Senate building, where a state funeral was to be held in his honour.
Chief of State Aquitenne was a controversial figure for his role in the banning of the Jedi Order its subsequent repeal when war broke out, as well as his perceived inaction during the early years of the war. Today, however, he was remembered as a man who held his office when few others could. "It is a time of national mourning", began Senate Speaker Jhon Cales in his speech, during which he gave a low-key account of Aquitenne's life and career up to the war.
After the traditional twenty-one rifle salute performed by the Senate Guard, the late Chief of State's body was transported to a waiting shuttle to be returned to his homeworld, where a small family ceremony will take place. With Aquitenne now out of the public eye, all attention remains on the Senate where his successor is expected to be announced in the coming days.
Ular Tenn // GHN