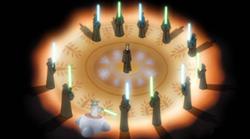 Despite the cold turmoil taking place outside of Temple walls, the Order is pleased to announce several notable events that have taken place during the following year on Yavin IV.
Agitt Tanwa, Imil Ucindus, Baelin Raddyx, and Eugen Darkrider have been granted membership in the Order as Jedi Initiates. May the Force be with them as they learn and grow in wisdom, knowledge, and experience.
In addition, Ergo Stomi has been reinstated as a Jedi Knight, with Sasha Raven taking a place as a Jedi Knight alongside him, passing her Trials of Knighthood on 278.25.
Congratulations to all, and may they find peace within the shadows of our time.
-The Jedi Council