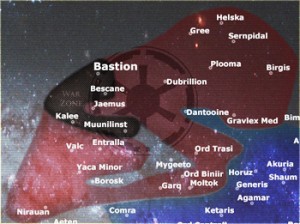 The Empire in conjunction with G.R.I.D (Galactic Republic Intelligence Division) has confirmed that the fighting has spread into neighboring systems of Bescane, Kalee and Muunilinst. The Empire has refused to provide a statement, but instead has submitted territorial information which the Galactic HoloNews has submitted into the galactic charts.
The fighting thus far has been one sided, with the mysterious forces baring the similar emblem of the Empire on the winning side. Republic analyst Zarri Bek'ana stated,
"The scenario that is occurring is very similar to that of a civil war, particularly in a historical sense. An attack on the capital and then all surrounding systems speaks to the rebel forces agenda. They're quite clearly sick of the government, and want to take over. The Republic will likely keep an eye on the war, and if it threatens its borders it'll be interesting to see what happens."
The Republic Defense Forces have refused to comment on the fighting thus far, but we'll continue to press on and recommend you stay tuned. More as this develops.