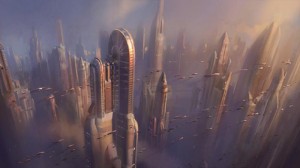 Gorgin Jekoo, age 17, was recognized earlier today by the University of Coruscant for his realistic artwork.
Entitled, "A Peek of Coruscant", Jekoo was able to capture the essence of Coruscant with detailed artistry and finesse. He is being widely known as an art prodigy.
Gorgin Jekoo received a 4-year scholarship to attend the University of Coruscant, one of the most esteemed universities in the core. The dean of the University of Coruscant stating at a press conference, 'We here at the University gladly accept Gorgin into our art program. We have no doubt that his talent will flourish under the supervision of our staff. We look forward to seeing him create as intricate pieces of art within our walls come this semester.'
Jekoo's art teacher, Ms. Oxen, could not be more proud of her student. Stating earlier, 'I have known Gorgin since he was little. Even then, he showed early signs of true brilliance. I am proud to call him my student and wish him all the best in his first semester at the University of Coruscant.'
The Galactic News also wish Gorgin the best of luck in his career.
I'm Rin Jaicup, signing off.