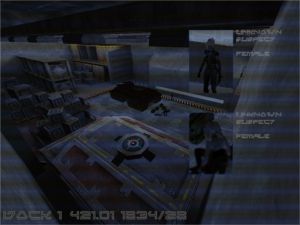 Security Forces from the Kwenn Station have publicly released holofootage that depicts a violent burglary of a storage and exporting warehouse located in the Aurek-04 habitation module.
The victimized trade company, which has requested to remain unnamed, has stated that the footage clearly shows two 20-30 year old, female suspects of alien description enter the warehouse and physically assault two workers who were unloading a delivery.
At this stage, security forces are requesting that anybody with information about the identity of the two suspects step forward to assist with the investigation.