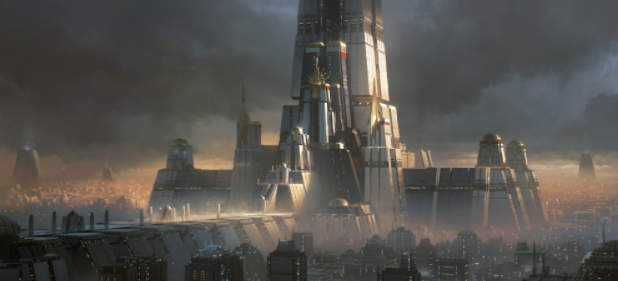 Empress Bellitria Fel, 96, passed away in the Imperial capital of Bastion last night surrounded by her family, the Council of Moffs, and close friends. Bellitria Fel served as Empress to the Fel Empire since she was fifteen years old after her father was displaced by the Sith Imperium. During the Imperium War, she worked with both the Republic and the Jedi Order to rescue her people from the Imperium's brutality and tyranny. The morning after she passed away, the Royal Palace released an audio message from the late Empress.
"My Imperial subjects,

My time has come. 

It has been the greatest honor of my life to fiercely serve the people of the Fel Empire, and I pray the Fel dynasty continues to fulfill its promise of a secure tomorrow. As I reach the end, I can't help but think of the beginning. My father, Pertinax Fel, was assassinated by the "One Sith" and Imperial renegades. I was rescued by the Jedi Order and Republic, and for that I am grateful to a degree that words cannot express. With their help, I was able to reclaim my throne and save my people. I have ruled my subjects justly, and the result has been a long period of peace. 

I will leave this life with our relationship with the Jedi Order, Republic, and larger galaxy strong. I have done my best to pay for the sins of the Sith Imperium. 

I leave the Fel Empire to my grandson, Jarek Fel, who just turned fifteen. The same age I was when I came into power. While he is very young, he has the right heart and mind for it. 

May the Fel dynasty continue to reign over this New Empire for millennia to come. I bid you all a farewell, my most loyal and loving subjects."
There are rumors of discontent within the Council of Moffs with her choice of successor, through a reliable source. Regardless, Grand Moff Kiren Kanos, Jarek Fel's uncle, who is well respected amongst the Empire's military and peoples, has been notably expanding the Empire's territory due to growing concerns of the Wyld's terrorization of the Outer Rim. Though our sources find it doubtful the new Emperor shares his uncle's imperialistic expansion of space, Jarek Fel has not released a statement on his uncle's actions or following the announcement of succession. 
There is to be a memorial service for Empress Bellitria Fel in the capital city of Bastion within the cycle and will be broadcasted on GSN. She will be buried beside her father. Jarek Fel is to be crowned within the year.