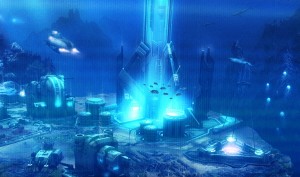 If you have been meaning to visit Ando in the coming days, you will want to bump up that vacation. The Aqualish homeworld is currently preparing to view the Portage Moon Festival, an event that occurs barely once in a generation.
The thirty day celebration brings much of Ando's commerce and trade to a halt, opting instead for feasts and public events. The Festival is named after the Portage lilies, which bloom yearly. However, the celebration only occurs when the titular lilies bloom at the same time as a double full moon, accounting for the Festival's rarity.
The last Portage Moon Festival, which occurred in 292ABY, received negative attention in the galactic media after a scandal involving the celebration's most famous food: lily cakes. Traditionally a treat to be given at no cost to all festival attendees, some companies attempted to sell the food before being shut down. Local authorities have already released a statement forbidding the selling of the foodstuff and promise to enforce stricter regulations.