Nodo Salar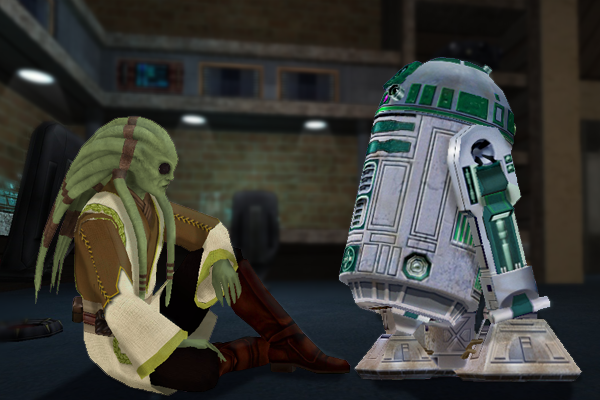 Jedi Knight - Master Artisan
Homeworld: Glee Anselm
Mentor(s): Wrennin Vae, Voh Phaar
Biography
Ever since he could get out of the water, Nodo has been shuttling from one place to another. His father, after a few seconds of thought, decided every ship needed a cook. To keep on the move, he'd become a ships cook and take Nodo with him. Never stopping to really talk about why they were always on the move, or why he decided to be a cook after he fried off his tastebuds in a freak maintenance accident, Nodo's dad used stories to keep Nodo from asking too many questions.
Developing a bit of a passion for them, Nodo would often pester the crew of the numerous ships for stories, listening in under tables at cantinas in the space stations to hear the smugglers and bounty hunters brag. Though by far his favourite storyteller, was an old half-blind Aqualish navigator called Roontko, and would fill Nodo's short time on his ship with parables filled with talking animals, and not-so subtle moral lessons. Despite his tendency to make them up on the spot, they captured Nodo more than any cantina tale of violence and betrayal.
And one day, while his dad as usual was giving everyone in his vicinity food poisoning in a spaceport cantina, he went to talk to a hooded sentient in the corner. When Nodo went to crawl under the table to listen in, his dad quickly sent him on his way, the stranger left and that was that. Everything went on as normal. A few days later, a shuttle came for Nodo and he was on his way again. His dad, as usual, said he'd explain it another time. He arrived at the praxeum clueless, and very confused.
Account Information
Class: Knight
XP: 242 (185 used, 57 remaining)
Level: 14
Next level: level 15 with 260 XP (+18 XP)
Rank: Knight
AdminRank: Mission Director
Model scale: 95%
Force bonds: none
Force regeneration time: 150 ms
Force Template:
Jump:
[5]
[15]
[20]
[30]
[40]
(20 / 110)
Push:
[5]
[15]
[20]
[30]
[40]
(5 / 110)
Pull:
[5]
[15]
[20]
[30]
[40]
(5 / 110)
Speed:
[10]
[15]
[25]
[40]
[55]
(50 / 145)
Seeing:
[5]
[10]
[20]
[35]
[50]
(35 / 120)
Absorb:
[10]
[15]
[25]
[40]
[60]
(10 / 150)
Heal:
[10]
[15]
[25]
[40]
[60]
(0 / 150)
Protect:
[10]
[15]
[25]
[40]
[60]
(0 / 150)
Mind trick:
[10]
[15]
[25]
[40]
[60]
(0 / 150)
Heal others:
[15]
[20]
[30]
[45]
[65]
(0 / 175)
Hold:
[10]
[15]
[25]
[40]
[60]
(0 / 150)
Slow:
[10]
[15]
[25]
[40]
[60]
(0 / 150)
Storm:
[10]
[15]
[25]
[40]
[60]
(0 / 150)
Fury:
[10]
[15]
[25]
[40]
[60]
(0 / 150)
Force Meld:
[15]
[20]
[30]
[45]
[65]
(0 / 175)
Saber Offense:
[5]
[15]
[20]
[30]
[40]
(20 / 110)
Saber Defense:
[10]
[15]
[25]
[45]
[60]
(10 / 155)
Saber Throw:
[10]
[20]
[30]
[50]
[80]
(0 / 190)
Physical Endurance:
[10]
[20]
[90]
[90]
[90]
(0 / 300)
Force Attunement:
[10]
[20]
[90]
[90]
[90]
(30 / 300)