Aldia Crestrunner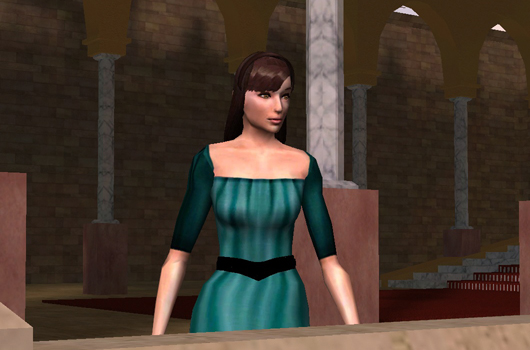 Padawan Learner
Homeworld: Naboo
Mentor(s): Phoe Nhix
Biography
Aldia Asrou (born Aldia Crestrunner, known as Her Royal Highness, Princess Asrou of Naboo) was born on the 20th of 234 ABY, on Keren, Naboo to an affluent and well connected family. Her mother Ariyana Asrou, was widely known for her service in public office during her youth, and as a Senator of Naboo. Her father Vosic Crestrunner was a well-known architect from the city of Theed.
At a very young age, Aldia lived a life of wealth and glamour. Her family lived in the commercial city of Keren, the most important trading city of Naboo. Her home was a located a few miles from the city in a private suburban area. The family often traveled away from their home during her mother's term as Senator. The family was highly respected due to her parent's occasional service in public office and was provided an entourage of servants.
As Aldia reached the age of four years old, she gained the title as Princess of Theed (238 ABY -239 ABY) and adopted the "State of Name," Asrou. During Aldia's term, the family moved to Theed Palace. She was often confined within the palace walls studying from her mentors. She was tutored by Professor Tatum, a wise scholar who had mentored Aldia's mother before she was elected Senator. Rydel, the head of the family's security would train the young Princess in combat and self-defense along with the other handmaidens. She gained an amount of skills wielding a blaster, dodging blaster fire, and accurate marksmanship. She spent most of the time with both her parents while they worked. Whether her father was working on plans for a new blueprint, or her Mother attended an important conference on Coruscant, Aldia was always delighted to accompany them. Her reign was interfered after her Grandfather wished the young Princess to pursue a career as a jedi.
When Aldia turned five, her parents enrolled her at both the Royal House of Keren and the Jedi Academy on Bespin. For about three years, she studied at the Royal House of Keren, and appeared at the Temple grounds after attending the junior senator academy. At the temple, she befriended many of the jedi students and masters. During this time, she attended a few classes until they were postponed.
Discontented of the postponed classes and wishing to learn, Aldia requested Knight Rash Loist, one of the mentors at that time, to take her and a few classmates on a field trip. Jedi Knight Loist would remain as a communication between the order and her parents, as well as a watchful protector of the young Princess until she became a student at the academy. During this time, she began many of her adventures of her befriended jedi and learned about their commitment to the force. She became close friends with students such as Ergo Stomi, Asphar Du, Sarrecm'ar'reccarve, Aeon Xarbon, and Lynee'alin who would give little Aldia lessons and play games with her.
At about seven and a half years old, Aldia was accepted as an initiate into the academy. Her career path was conflicted, when she was forced to determine whether to become a jedi or serve in public office like her mother. It was a very difficult time for young Aldia, due to her grandfather's recent passing. Aldia decided to turn down her nomination to become the Queen of Naboo, and became certain that she would become a jedi. Her parents disenrolled her from the Royal House of Keren School and remained at their daughter's side throughout her decisions.
By the time Aldia turned eight, she was taken under the apprenticeship of Jedi High Council Member, Phoe Nhix.
Upon becoming a padawan, Master Nhix took his two padawans, Aldia and Lynee'alin on a trip to Nar Shaddaa. There, Aldia had undergone a life changing experience. After beholding the harsh life of the planet's citizens, Aldia developed a more humble and less naive attitude.
For one year, Aldia returned to Naboo as her pregnant mother was due to give birth. On the 25th day of 242 ABY, Aldia's sister, Asylin Asrou was born. Aldia felt very fortunate to take care of her newly born baby sister. During this time, Aldia also recieved training and was taught by her old mentors. Aldia's education was composed of learning diplomacy skills, piloting, and became very skilled in blaster marksmanship.
She began to develop a close friendship among the old students and the newly accepted.
At the age of nine, she returned to the temple to continue her training with her Master Phoe Nhix.
During this time, she and a few initiates, formed a group called "the Enchanting Circle". It was founded by Aldia along with members, Syrena Exan, Cyril Feraan, and Nivek Tholmai. Together they would create games and have meetings to discover things about other students who may join the circle if accepted. The club was disbanded when Aldia decided to leave the temple once more.
When Aldia turned twelve, she decided to leave the academy to be with her family due to undisclosed reasons that she kept hidden from the other jedi. Her family had known that certain events would unfold in the Galactic Alliance, forcing her family into hiding in order to avoid violent acts towards them. They moved away from Keren, to a secluded location on the planet. As the five planets resigned from the Galactic Alliance, including Naboo, her family remained secretive, wishing to avoid the life of politics. For about four years, Aldia remained with her family, wishing to protect them as chaos began to unfold on the planet.
A blockade prevented Naboo from continuing it's trade routes, causing many of it's people to suffer tremendously. Fortunately, Aldia and her family survived managing their supplies and provisions. At this time Aldia continiued her training in combat and stealth, as well as her practicing her force training in levitation and healing. Aldia's family also affiliated theirselves with a secret resistance group, whose goal was to aid in keeping peace and justice, as their home planet fell into crisis.
Aldia would undertake a few missions, along with a group of resistance fighters, to capture criminals who tried to take advantage of the planet's current state. They defended and rescued the innocent, while fighting those who schemed evil.
On one of her latest missions, she was reunited with her Jedi comrades. Her old mentor, Phoe Nnix, and his new padawan, Nivek Tholmai, rescued Aldia as she fought against officers of the corrupt Naboo Government. After the battle in the streets, Aldia decided that she would leave Naboo to continue her training as a jedi. She bid her family farewell and promised them someday she'd return to save their home planet from the uprising evil. She was only fifthteen years old at this time.
For about two and a half years she trained at the temple without her Master, who had left on an urgent mission. Despite her Master's absence she continued to attend classes and mainly make decisions on her own. Prior to the events of the assassination of Chief of State Feksk, she discovered that her Master was reported missing while the reconstruction began from the aftermath between the Galactic Alliance and Commonwealth.
Aldia decided to leave the temple once again and search for her Master. After a complete investigation, travelling around the galaxy with Charleston Galiv (Chief Investigator and family friend), she concluded of Master Nhix's safe return to the order and remained on Naboo with her family for a few months.
At the age of eighteen, she returned to the temple, and hoped that she would not have future interventions from her Jedi training.
Despite of her hopes for things to improve, Aldia finally decided to be transferred to a new Master after four years had passed prior to her Master's recurring absences from the temple. During this time, she grew closer to a childhood classmate, Jamus Kevari, who was appointed a Jedi Knight, in his early twenties. Their relationship was truly professional and platonic.
She continued her studies as a jedi, eager to complete her training and one day be prepared to serve the order. Yet thoughts of leaving the order began to consume her mind one final time. Most of her time was spent with her first puppy love, Jamus. Other times she would be around her one of her friends, Aayla Vigil, a padawan learner who was also apprenticed with her former master.
After the academy moved to Dac, upon being given the only option to request training independently from other mentors, she would primarily recieve lessons from Knight Jamus Kevari, as she waited to be assigned to a new Master.
On 256.26 ABE, with deep consideration and without regret, Aldia finally made the decision to resign from the order. Her last words being to Jamus Kevari, that she would wait for him if he also decided to leave the order. With her final goodbyes of befriended jedi at the enclave, she returned to Naboo to continue her education at a university in Theed, to study business.
About two years later, she transferred to the majestic business school of Dac. She resided in Foamwander City as she continued her schooling and made frequent visits to the enclave spending time with her old fellow classmates and dearest comrade, Jamus.
Once graduated from the Univerisity of Theed, with a degree in accounting, on 261.31, Aldia made her last visit to her love on the night of New Year's Eve. The two leaving each other their lasts words, wishing each other both happiness in the paths they had choosen, both gave each other their farewells as comrades. Knowing she must let go of him, Aldia knew it was for the best.
With one last glance at the temple's ruins, under the starlit sky, she smiled holding on to her fond memories during her stay. As the night's breeze made the only sound, she was gone.
…
The heartwarming, fun-loving, songbird Princess to this day, still gazes under the night lit sky knowing that her first dream had come true. Deep in her heart, she has always known that she must move on forward and achieve more to come.
Aldia works as the Chief Executive Officer of her own fashion company on Naboo, with her parent's co-leadership.
On 264.26 ABY, Aldia was engaged to Charleston Galiv, and were married 263.03 ABY.
Aldia gave birth to a baby girl they named Auserei on 264.02.
She resides on Naboo with her loving husband and family living a peaceful life. She is the head co-founder and Ambassador to a non-profit organization for goodwill and charity. Now in her mid-sixties, still a loving mother and also now a great grandmother.
Account Information
No account information available.